We are the Champion
Published: November 13, 2015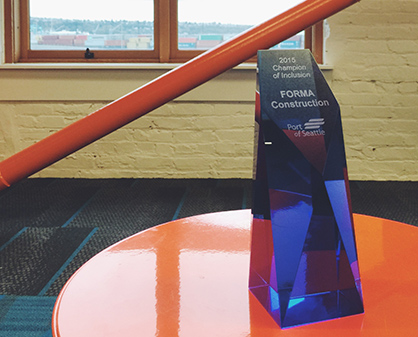 November 2015 –
FORMA Construction Named the 2015 Champion of Inclusion
We are honored to announce that FORMA was named the Champion of Inclusion for 2015 by the Port of Seattle last night in a well-attended reception at Pier 66.
Sponsored by the Port, Sound Transit, and the Washington State Department of Transportation; this annual event showcases the importance of inclusive contracting practices and demonstrates the resolve of these public agencies and their chosen prime contractors to continue to push for social equity and responsible subcontracting efforts in the region.
Recognized specifically for our hiring practices on the Port's expansion of Concourse C at SeaTac Airport, FORMA's focus on identifying, hiring, and mentoring local small and historically under-utilized businesses is evident in each of our projects and we are very pleased to have been honored in this way.
If you'd like to add your business to our database of subcontractors and suppliers, please fill out and return our Invitation to Subcontract.