AHS Veterans Memorial Dedication
Published: October 06, 2016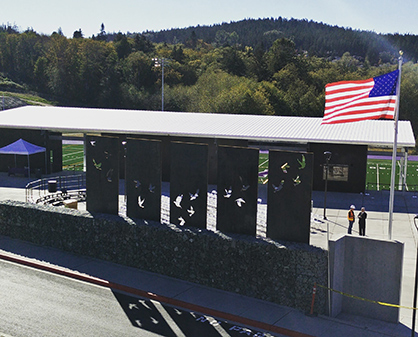 October 2016 –
A Moving Tribute in Anacortes  
It was a beautiful afternoon yesterday for the Dedication Ceremony commemorating the new Veterans Memorial recently installed at Anacortes High School's Rice Field. As the GC building the new stadium and ultimately replacing the whole high school, FORMA had the privilege of also erecting this impressive pavilion and memorial.
Designed by Architect Brooks Middleton with input from the Veterans Memorial Committee, the focal point of the piece is its five, 20′ tall, 5′ wide, and 2″ thick steel plates – each representing a branch of the United States Armed Forces – as well as a series of informational plaques touching on each of the country's major conflicts, dating back to the War for Independence.
Veterans all over the country were honored at the ceremony yesterday with special recognition given to AHS graduates and Anacortes residents, two of whom have been awarded with the Medal of Honor. Complete with rare Fall sunshine, 300 visitors, a choir performance, and a VAQ-139 Growler Squadron Flyover, the event was a success and a fitting tribute.
We urge you to visit this beautiful place if you find yourself in Anacortes.