800 Pounds Each
Published: October 17, 2017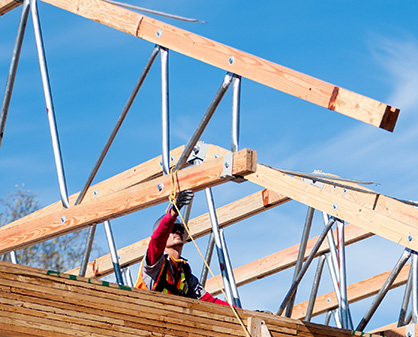 October 2017 -
What's involved in building the roof over a 65' wide fire station apparatus bay? We're so glad you asked.
We were fortunate to have a photographer on site last week when we picked and placed the 800 lb roof trusses with a 60 ton crane and set them in place to span the 65 foot wide apparatus bay of the new Fire Station 21 on Bainbridge Island. With two workers in scissor lifts to set the trusses at each bearing point, and two crew members on the ground to manage the rigging, each of the 31 trusses was individually flown into place, bolted down and braced with steel tube bracing. The whole process took eight hours, as well as an additional three days to complete all the internal blocking and bracing before we began sheathing the trusses in preparation for roofers to dry-in the roof with their first layer of water tight membrane. Check out our
Facebook
page for photos of our crew in action.